Eight Things You Might Not Know About Houston Metal Roofing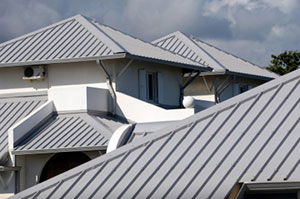 Metal roofing is growing in popularity, probably due to its durability, low-maintenance, and low cost. It's perfect for any home or commercial building, and our Houston metal building contractors will be certain it's properly designed and installed. Still, asphalt shingles remain the most popular choice for roofing across the nation. Asphalt shingles are a fine choice for roofing, and ultimately the choice is up to you. But if you haven't considered Houston metal building as an option, here are some facts that may change your mind:
1. Metal roofing is completely recyclable.
New metal buildings will often be comprised of 30-60% recycled metals. They can be recycled infinitely, too, without ever losing any of their quality. And they'll never end up in a landfill, so they do wonders for protecting the environment.
2. Most metal buildings require little or no maintenance.
Copper, stainless steel, and zinc roofs will only need repairs if there's a problem with the design or installation. And they'll last over a century. The only time you will need to perform any maintenance is on a metal building that comes with a factory coating. Once that's worn off, you'll need to get it re-coated to avoid corrosion.
3. Houston metal building should be considered a lifetime purchase.
While you may spend more upfront than you would for other materials, you'll never have to repair or replace it again. And you can wash it easily with good-old-fashioned water.
4. Metal roofing is the most durable roofing material there is.
They won't rot, crack, or leak, and they can't be infested by termites or rodents. They can also withstand nearly type of debris without being damaged. They can't catch fire, will shed ice and snow, and can withstand winds of up to 160 miles per hour.
5. In case it crossed your mind, your new Houston metal building will not increase your home's chances of being struck by lightning.
In fact, if your home is struck by lightning, the roof will dissipate the electric charge.
6. And while we're on things you may be worried about…
Your Houston metal building won't be loud when it rains. When it's installed, there will be a layer of sheet beneath it, so it'll be just as quiet as any other roofing material.
7. They'll save you money.
Houston metal building is extremely energy efficient, so you'll save on your heating and cooling costs. Plus, insurance companies will often give you a significant discount for installing a qualified metal building!
8. Your new Houston metal building can come in any color or style at all.
The two main styles of metal building are vertical panels and interlocking shingles. If you choose to go with interlocking shingles, they can be designed in the style of cedar shake, clay tile, asphalt shingles, or any other roofing material. And there are over a hundred color options you can choose from.
 If you're interested in Houston metal building for your home or commercial building, call us today at 281-337-1311 or fill out our online request form.