Call Our Experienced Team of Houston Concrete Slab/Foundation Experts Today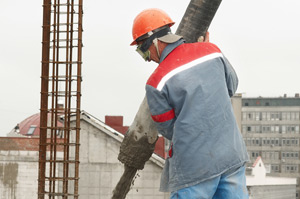 Our Houston concrete slab/foundation specialists at Brand Metal Building begin your project with the foundation, which we efficiently determine the full strength of your structure.  We thoroughly measure the slab foundation pouring for pristine layering and thickness. As the foundation is progressing from the bottom up, we only give you the highest quality and safety to finish the building process successfully.
TYPICAL COMPONENTS OF A METAL BUILDING
---
Concrete Foundation or Slab
Rigid Frame
X Bracing, Wind Columns and Portal Frames
End Wall Framing
Girts – Z Shaped for Wall Frame and Panel Attachment
Purlins – Z Shaped for Roof Frame and Roof Panel Attachment
Eave Struts – C Shaped used where walls connect to the roof
Galvanized Base Angle Used for lower panel attachment
Laminated Metal Building Insulation
Framed Openings for doors and other openings
Metal Sheet Panels for Walls and Roof
Trim & Accessories: Base Trim, Eave Trim, Corner Trim, Gable Trim
Our Contractor Provides Houston Foundation Installation:
Metal Building Furnish / Erection
Metal Building Erectors
Metal Building Installation
Metal Building Design
Metal Building
Metal Building Manufacturers
Metal Buildings
Metal Buildings Houston
Metal Building Prices
Prefab Metal Buildings
Metal Building Contractors
Metal Building Materials
We Provide in Houston Concrete Slab/Foundation in the Following Areas:
Alvin, TX | Baytown, TX | Channelview, TX | Deer Park, TX | Dickinson, TX | Galveston, TX | Houston, TX | League City, TX | Pasadena, TX | Pearland, TX
Why Should Houston Hire Us For Their Concrete Slab/Foundation
At Brand Metal Building, we certainly know how essential every stage in the process of building a  foundation is. We take over everything in the process, so you should never worry. Our Houston concrete slab/foundation professionals will ensure safety and stability within a timely manner and within your budget.
We are your Houston concrete slab/foundation specialists that are highly qualified to take on every type of metal building foundation project. Providing a unique, contemporary needs to fit your style of property, concrete is extremely functional in shaping, pouring, designing, and stamping. We make sure to follow compliant guidelines with your local building codes.
What Homeowners Are Saying About Our Houston Concrete Slab/Foundation
Latest Articles On Houston Concrete Slab/Foundation
When you want to get a job done in your Houston home or in the yard, it is important to have The Right Equipment. If you are building a foundation to a home, garage or shed, repairing a sidewalk, or repairing the side of the building, having the right type of concrete mixer can ensure that you will do a job in excellence. Read More
Let's be honest. When you were a little kid and someone asked you what you wanted to be when you grew up, what did you say? If you are like most people you probably answered fireman, policeman, or possibly a doctor. You most likely didn't answer Houston 'metal building owner.' Read More
If you are looking for more information about a Houston Concrete Slab/Foundation Contractor then please call 281-337-1311 or complete our online request form.